Tin tức
How to get to Halong Bay from Hanoi?
Thanks to recent road works, getting to Halong is so much easier than it used to be. The most common departure from Hanoi, which have international airport and highway that connects to Halong Bay.

Hanoi is approximately 160 kilometers from Halong Bay, so a road trip between these destinations will take travelers around 2 - 2,5 hours. There are a few different ways to move from Hanoi to Halong Bay, most popular ones are by coach, by cruise's bus, or by private car.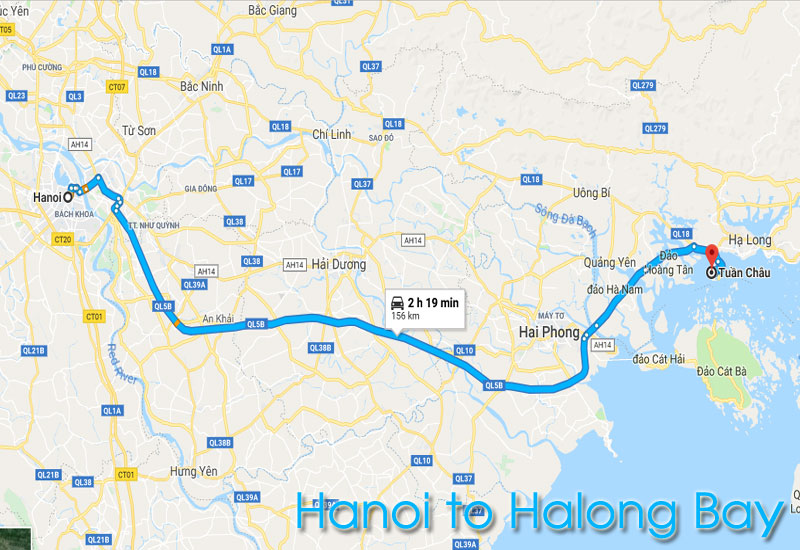 Google Map: Hanoi To Halong Bay
A new highway connecting Hai Phong and Halong Bay is now put to use, which will reduce travel time from Hanoi to Halong Bay to 2.5 hours. Some cruise buses use this express way and charge extra fee, some still use the old highway with travel time 4 hours. If you take a private car, you may request to use the new highway and pay the toll fee ($15/one way).
Cruise bus/ mini bus
Perhaps the easiest and the cheapest way to travel from Hanoi to Halong Bay is to book a cruise tour that includes two-way transfer. With a cruise package, travelers don't have to worry about the transfer anymore because they will be picked up and dropped off by the cruise's mini bus which is quite safe and comfortable.
Private car
Booking a private car through your travel agent is undeniably the most comfortable way to get to Halong Bay. Currently, as the service industry becomes more and more flourished in Vietnam, it is easy to contact with a travel agent and book your own private car. However, the service quality is surely commensurate with the price, it means that the more comfortable you get, the more expensive you have to pay.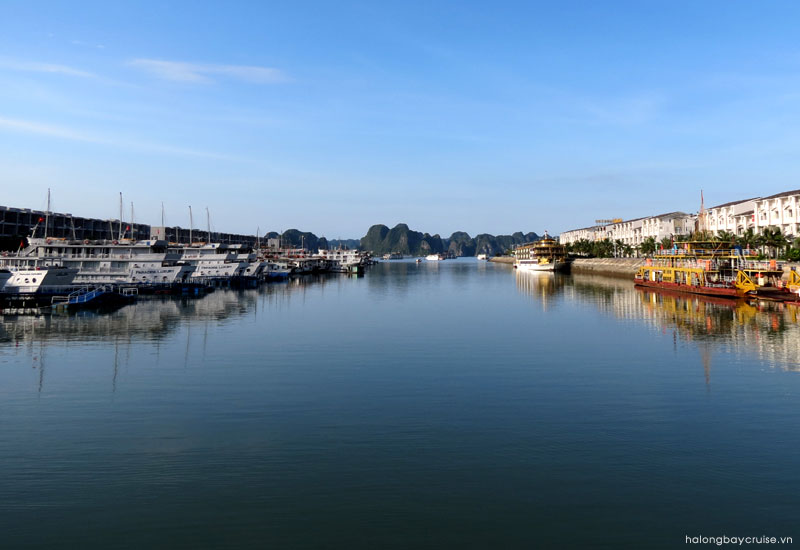 Tuan Chau Island Marina

Seaplane

Hanoi To Halong Bay - The Best Way To Explore Halong
It will be your once in a life time experience as you have a wonderful opportunity to enjoy a scenic tour to admire panoramic view of Halong Bay from a height in Hai Au seaplane. The scenic tour will last during 15 minutes. This is undeniably the most wonderful option for travelers who have a generous budget.
Departing from Noi Bai Airport, the destination for this short flight is the coastal port town of Halong Bay, the stunning UNESCO World Heritage-listed bay. Enjoy fabulous aerial views over the countryside and experience the thrill of a water landing at the Tuan Chau Island Marina.
Traveling with seaplanes gives you a totally unique experience compared to any other kinds of transportation.
Only with our seaplane you can enjoy fabulous aerial views over the countryside and be amazed by the thrill of water landing which has lured many savvy travelers from all over the world. The flight can be extended to offer you an additional 15-minute scenic tour over the bay.
This allows you to enjoy thousands of limestone karsts jutting up from the jade green waters from a bird's eye view and see remote fishing villages before landing on Tuan Chau Island Marina.
Find the Best Halong Bay Tours
Are you looking for the best
Halong Bay tours
, but with so many boats you are confused as to which is the best Halong Bay tour for your family? In my view, the best Halong Bay cruises are the overnight one, if you have a little more time choose a Halong Bay 2 night cruise or if you are super short on time a Halong Bay day tour will suffice. A cruise holiday lets you explore Halong bay of the world in comfort and affordable luxury. Halong bay cruise itinerary currently we offer in this bay:
CRUISE DAY TRIPS
Join cruise for a Halong Bay private cruise, a one day Cruise of the best of this UNESCO World Heritage. Relax and take in the scenery from the cruise. You'll be served a fresh lunch on board, and have a chance to swim in the waters of the bay.
2DAY/1NIGHT CRUISE

Treat yourself to an overnight Halong Bay cruise, offering the time to enjoy the bay's magnificent scenery of countless rugged limestone islands. As you cruise through the bay, enjoy traditional Vietnamese and fusion cuisine served on the
Halong Bay Cruises
. Pause for a swim in the azure waters and lay back on one of the secluded beaches scattered throughout the bay. Make the most of your boat's sundeck and take in the sunset, or join a Tai Chi session held at first light. The 2 day / 1 night cruise gives you the chance to explore more of the bay, while leaving you plenty of time to see the rest of Vietnam's attractions
2D1N Pelican Cruise

3DAY/2NIGHT CRUISE
If you are looking for more from your Halong Bay experience, consider a 3 day / 2 night cruise. Dedicated three days to Halong considerably expands what you can do while in the bay. You'll be able to explore the entire area, cruising through corners of the bay far from the busier routes plied by those on day trips. Meet residents of a remote fishing village and learn about how they live. Kayak into hidden lagoons and take your time paddling around mysterious islands, of which there is always one more. Relaxing on your boat amidst these ethereal surroundings, you will hardly notice another day slip by, and disembarkation comes all too soon. Immerse yourself in all that Halong Bay has to offer, with a
Halong Bay 2 nights
cruise.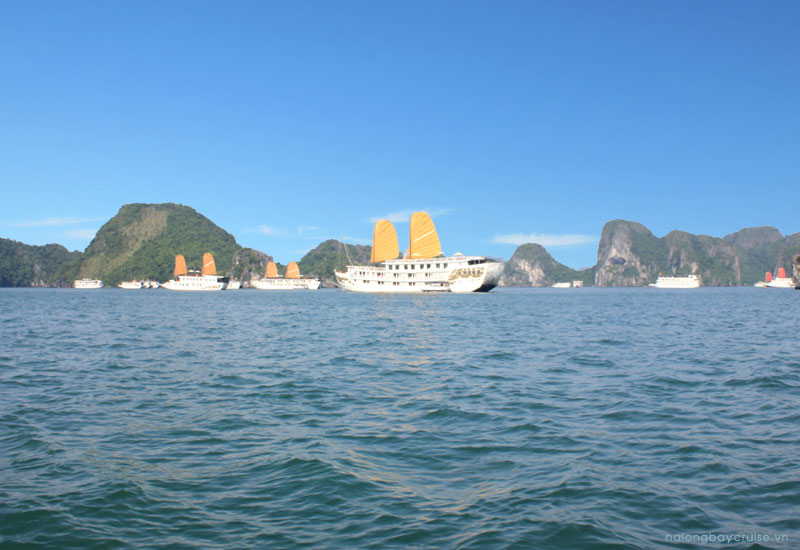 3D2N Halong Bay Cruises
CHARTER CRUISES
Are you looking for a one-of-a-kind location and a capable destination manager to set up an important group event or MICE package? As the largest cruise operator in Halong Bay, Vietnam's premier natural attraction, Halong Bay Cruises is well positioned to meet your needs! Our Meetings, Incentives, Conferences & Events staff has considerable experience creating individualised cruise itineraries focused around the specific goals of our clients' events.
Tour du lịch quanh Hà Nội