Tin tức
Book Your Best Cruises in Halong Bay
Book today for best price and selection on Halong Bay Tours & Trips 2019. Discover the best of Halong Bay with 10 tours travelling to places like Hanoi and Halong Bay. All Major Brands. Biggest selection. Best Prices.

A vacation spent abroad allows your mind to relax, and as you stop worrying about your job and social life, you can focus on recharging your batteries, having fun, learning new things and broadening your horizons. It is good to travel as far away from home as possible, and really immerse yourself in a different culture. Halong Bay well deserves every of your minutes traveling.
As you browse through our list of Halong Bay cruises, be confident that you are looking at the very best ones for Halong Bay. We are selective in partnerships, and only present to you the cruise trips that meet safety and security standard as well as offering customers the best experience of the Bay. On the other hand, we want to give you as many choices as possible. Comprehensive quality cruise listing is our priority.
ALISA CRUISE

Alisa Cruise is fast becoming one of the most sought after cruising experiences on the Gulf of Tonkin. Being hailed as one of the largest and most luxuries vessels in the area, we also offer some of the largest suites and best facilities.
The main concern onboard for Alisa Cruise are the safety of our passengers and the threat to the surrounding environment. We also support the local community through offering jobs to local staff and supporting the local community to our highest capacity. Cruise Halong Bay with Signature Halong Cruise – the 5-star luxury Cruise, we commit to bring you the experiencing you expected.
22 Private Suite Cabins Ocean Views
Jacuzzi Tub in Senior Suite
Brand- New and luxury 5 star boat
Private bathrooms
Safe-box
Life Vest
Sky Bar with Refrigerator
Luxury Alisa Restaurant
2 ways Air-con
Full board meals
Free Wifi
Kayaking
OASIS BAY CRUISES

Launched at the end of November 2015, Oasis Bay cruise appears right away following its name. The interesting inspiration comes from the small Oasis "floating" in the Ha Long bay. In addition, you will be strongly impressed in this wooden boat by its sophisticated oriental style, contemporary luxurious cabins and facilities and professional services. Our purpose is not simply to bring our guest a journey on Ha Long Bay, but to create a unique, unforgettable travelexperience to all of them. Our boat offers 18 cabins for a maximum of 40 passengers. All suites and cabins are designed under 4 star international standards.
GLORY LEGEND CRUISES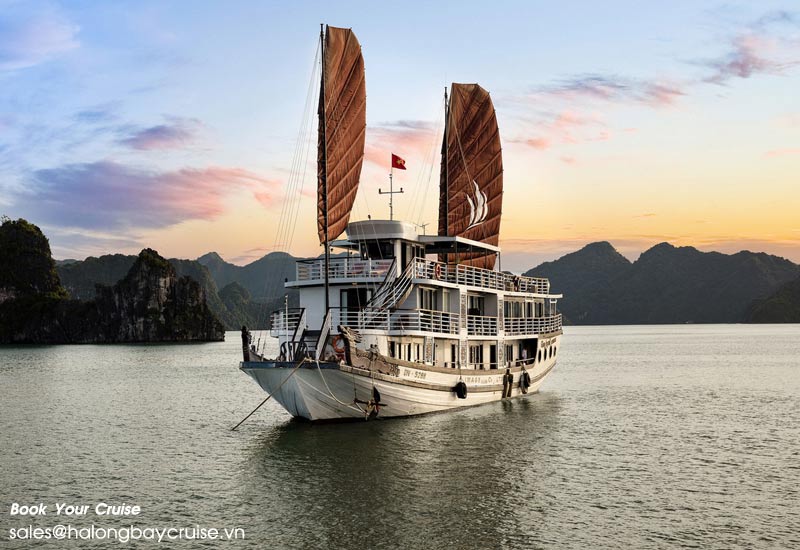 Glory Legend Cruises Halong Bay have got 11 cabins and 17 cabins with the same services and standard. They have been operating in December 2014. They are modern and tastefully designed boats, the boats feature spacious, well-appointed cabins and suites with large en-suite bathrooms, large sundecks with comfortable lounging furniture and elegant dining rooms and bars. We have designed and fitted our boats to international standards while maintaining traditional style, creating the perfect balance of modern comforts and nostalgic ambiance. Amongst all the best Halong Bay Cruise recommendation from travelers, we are proud to be always in the leading team.
Facts and Figures
CRUISES' NAMES: Glory Legend Cruises
Launched time: December 2014
Length: 40m
Width: 10m
Height: 11m
Number of Cabin: 17
Deluxe Cabin: 11 (14m2)
Suite Cabin: 6 (14m2)
Family connecting door: 4 (28m2)
En-suite Bathrooms: Yes
Central Air conditioning: Yes
Dining Room: Yes
Bar: Yes
Sundeck: Yes
Sport Activities: Yes
PELICAN CRUISES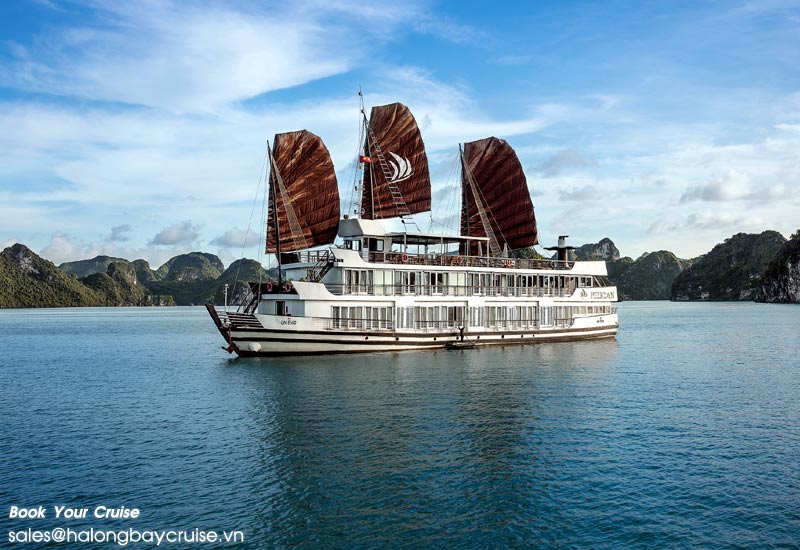 Discovering a Natural Wonder such as Halong Bay at its best requires the highest standards in terms of services. When talking about the best Halong Bay cruise recommendation, you should not miss out Pelican Cruise- A new cruising company launches its services to offer a pioneering new generation of vessels with both uncompromising quality and safety standards.
When it comes about discovering the magic of Halong Bay, tourists' expectations are those of a luxurious and safe experience in order to admire the most relaxing way the archipelago's tremendous scenery. As for the luxury standards, Pelican Luxury Cruise while 3 similar Pelican boats, each of 22 cabins. Including bar and restaurant and a sun-deck will provide guests luxurious and 5-star experiences. Read all Halong cruise reviews of Pelican cruise by our passengers. Book a cruise directly with us to get the best rates and discover a different world with our luxury cruise.
PARADISE LUXURY CRUISES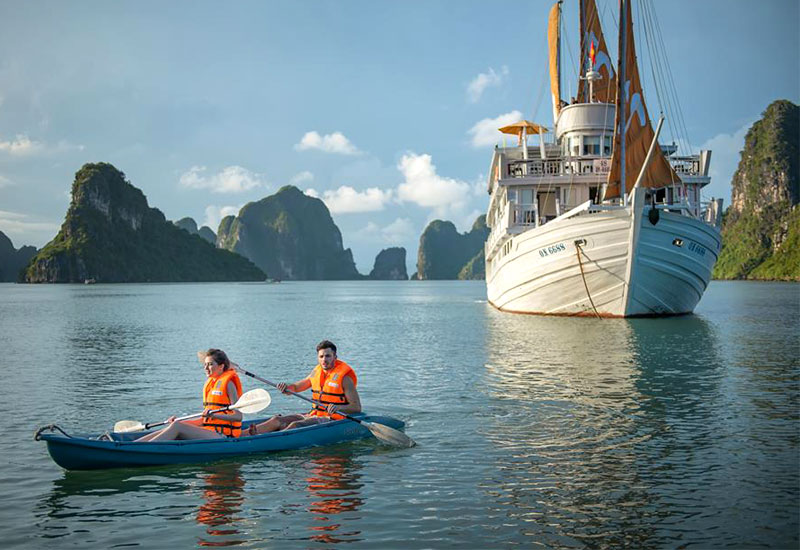 Paradise Luxury I, II, III & IV were built according to the traditional Vietnamese junk design and present a lavish outfit blending in subtle harmony with the natural environment of Halong Bay - Vietnam. The 04 Paradise Luxury cruises offer 68 luxurious cabins and suites as well as an exciting array of activities to be enjoyed while experiencing the spectacular scenery of the "Bay of Descending Dragons". Each vessel features a stylish restaurant and bar for an exclusive dining experience on the third deck. The top deck serves as a perfect place to enjoy lingering in the sunshine and discovering the splendid beauty of Halong bay – the most stunning bay in Vietnam with a 360 view, thus promising unforgettable and thoroughly relaxing moments during your Halong Bay Cruising Tours. Celebrated for being the only Cruisers in Halong Bay to provide complete spa facilities with dry sauna, Jacuzzi, massages and beauty treatments, Paradise luxury boats dispose of Spa facilities aiming at reviving your senses and nurturing your well-being.
Paradise luxury fleet is committed to grant our guests a genuine yet prestigious experience: a Paradise cruising experience in Halong Bay.
Launched: The first from 2008 to 2011 (forth one)
Length: 41.5m
Width: 9m
Height: 11.5m
Number of Cabins: 17/each
Deluxe Cabin: 6/each
Cabin size: 16.2m2
Deluxe Cabin with Balcony: 9/each
Cabin size: 18.2m2
Paradise Terrace Suite: 2/each
Cabin size: 23m2
Tour du lịch quanh Hà Nội